Pizza originated in Naples, Italy for feeding the working class as it was inexpensive, convenient, and fast food. However, today it has become a childhood favourite food (and adults too!) in many countries. More and more restaurants worldwide are serving pizza today. Innovative ways of preparing and marketing pizza are coming up every now and then.
But then is it only a blind love for the cuisine, or do we have some concrete evidence that proves why Italian cuisine is everyone's favourite food?
1. Simplicity At Its Best
Italian cuisine offers a wide canopy of incredibly diverse food dishes, and the best part of all these sumptuous dishes is that they are made from fresh and simple ingredients. The traditional Italian dishes are cooked with a smooth amalgamation of different styles and recipes that are beautifully organised.
From high-grade olive oils to fresh vegetables and cheese to aromatic wines, an Italian food dish comprises the right proportionate of all of them. The Italian recipes are all about enhancing the flavours and taste of the original ingredients used, thus keeping simplicity at its best.
2. Unity In Diversity
The diverse nature of Italian cuisine is another intriguing factor that adds up to its reputation of being the "world's most popular cuisine." They say that a single Italian Cuisine does not exist. Statistically speaking, every household in every town in Italy has its unique style of cooking their food.
3. Pizza is Easily Available
It will be in the rarest of the rarest case when you'll come across an Italian restaurant that has no pizza at their place. This makes pizza a flexible dish that is available at your doorstep whenever you want.
4. Pizza is Also Cost Efficient
This is one of the major reason why college-going just love pizza: it is affordable, inexpensive, delicious. Moreover, they can able to buy it several times in a month within their pocket budget.
Actually, even professionals know pizza is a lifesaver at the end of the month when we left with no money. Relatable much?
5. No Party is Complete without Pizza
Pizza lifts your mood at a party. Pizza and booze go so well together. If you are organising a house party, you could simply order pizza and relax. Everyone would love to have the cheesy Italian delight. Pizza is said to bring a party together whether house warming party or just a long weekend party, pizza is just perfect for pepping up a party.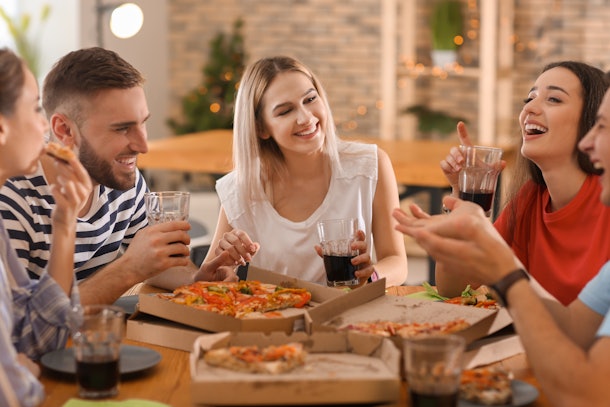 6. Innovative Variations Coming Up All the Time
The secret behind the continued craze for pizza is definitely menu innovation. Pizzerias and pizza chains are all the time presenting innovative variations of classic pizza for maintaining consumer's loyalty and interest. Moreover, these novelty pizzas actually are not at all easy to make at home.
Don't trust us? Then how about our Indian-style pizza in Baulkham Hills?
Hurry up and order your pizza from 

The Golden Crust

! We understand your pizza needs, that's why you can always trust in the crust.
---