Splashbacks are aptly named. Even if you are the cleanest cook, your splashback will get grubby. Oil splashes, condensation and fatty residue that eludes your extractor fan will all end up on your kitchen walls. Making a careful splashback selection can reduce the evidence of this grime during cooking as well as make cleaning up easier on cleaning days.Splashes aside, it is no secret that a kitchen can be launched from ordinary to legendary with a well-chosen splashback. It may even be updated with less cost than replacing an entire kitchen. A kitchen with an otherwise neutral palette can be given a bright pop of colour, textural interest or rustic charm just by selecting a splashback that sings.
Whatever your budget, style or cleaning timeline, there is a splashback option that will suit you. This handy guide answers five questions for each option.
• Will it show the grime?
• Will the splashback be easy to clean?
• How will it handle kitchen wear and tear?
• How much will it cost?
• Can I have it near my cooktop?
Individual style is expressed in all facets of our lives, why should our home be any different? As the kitchen is the hub and heart of the home, our style should be revealed all the more readily. A carefully chosen splashback can make a kitchen come to life. Which splashback suits your life, style and needs best?
Toughened Glass
Toughened glass may be painted on the reverse in a great variety of colours. Although painted glass has a certain level of opacity, it should be noted that if holes are left in the wall (for instance from old powerpoint sites) they may be visible through the splashback and should be dealt with before installation. Marks will show if the background is one colour. Shadows of more opaque splashes may add to their prominence. Glass splashbacks suit any kitchen style. Lighting directed towards your glass splashback can add atmosphere, wow-factor and a sense of luxury.
Printed Glass
Toughened safety glass may be used closer to gas-burning cooktops compared to other materials. Ticking the safety box is just the tip of the iceberg. Printed glass is moisture resistant, heat resistant, and stands up to the many rigours of kitchen usage. The design on printed glass not only adds style but provides camouflage resulting in a clean look, even with a few olive oil splashes and condensation that naturally occur in a well-used kitchen. When it is time to clean, it is easy with a microfibre cloth—no cleaning agents required.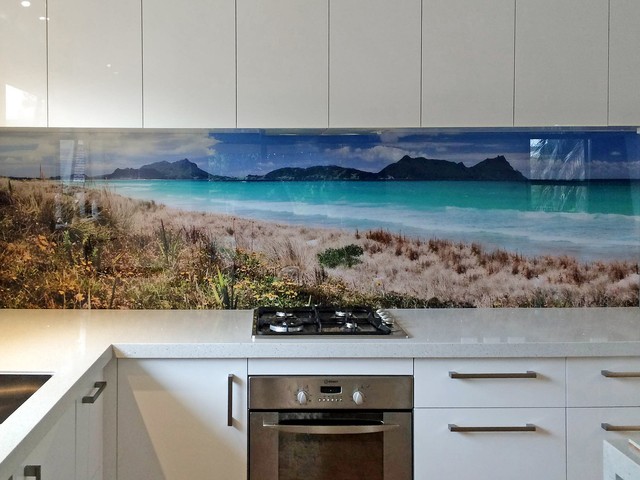 Mirrored/Silvered Glass
We know what you are thinking—a mirror for a splashback?!
Mirrors in the kitchen can look cleaner than solid colour glass due to the reflection of the rest of your kitchen. Toughened safety glass should always be sought for kitchen applications. As with all glass, cleaning is simple and chemical-free.
Stainless Steel
Stainless steel can be very difficult to clean to a satisfactorily uniform look. Much of the stainless steel on kitchen appliances, such as fridges, has an easy clean coating on it to limit streaking. Generally, stainless steel splashbacks are not armed with such a coating. While stainless steel is easy to wipe and disinfect, it is difficult to achieve a streak-free appearance.
Raw Brick
Raw brick provides a cost-effective option for a feature splashback if the brick already exists in situ. Scribing of the bench-top will be required to fit it exactly to the irregularities of the brick; this can be expensive and will not result in a straight line between the bench-top and splashback. If rustic charm is your bag, then raw brick will suit your kitchen well. A fire rated coating can be applied to fill pores, bind dust from mortar and brick and make cleaning easier. Please consult your licenced plumber and licenced electrician for information relevant to your particular circumstances.

Glass Tiles
Glass tiles cover a raft of size, colour and pattern options for your splashback. A greater portion of the cost of glass tiles is often in the installation because they are difficult to cut, and if transparent can reveal what is below – expert care in tiling is required! Be sure to factor this into your budget. These glass tiles were found here.
Enginereed Stone
Engineered stone is a popular choice for benchtops and can be continued up walls for a seamless effect. A separate wall cladding must be chosen for areas within 200mm of a cooktop, however.
Looking for the best kitchen and bathroom designers and renovators in Mascot, Sydney? Contact Kensington Kitchens & Bathrooms now. We are ready to help you from concept design, installation to finishing touches! Get in touch and make the bathroom of your dreams a reality!
---
To find out how we can help you with your Website + Marketing, using our unique location marketing platform called Top4, get in touch today at www.top4marketing.com
Looking to build customer loyalty through social media? Don't forget to add your business to Top4.global
List your business, create your own digital store to sell goods and services, and share posts on social media. Promote your business on Google instantly! Should you need help with local digital marketing then view our new Google Marketing Platform and services Top4 Marketing
Get Found On Google Promote Your Website, Reach local customers today!
Our Digital Marketing Agency Services Across All Industries Include Search Engine Optimisation (SEO), Google Marketing, Website Design, Corporate Web Development,  and local location-based marketing using our own Google Marketing Platform!
Engage A Social Media Agency For Only 1/3 The Cost Of Employing A Social Media Manager…LET'S TALK!