A broken door can cost a lot of money if one does not fix it immediately. By knowing the signs of a broken door, you might be able to get the problem done without waiting for it to get worse. Get to know the signs before something happens, especially when the weather is unpredictable.
1. Create Noises
A loud and annoying door is bothersome all of the time, not just when you or someone in your family is sleeping. Depending on how loud the squeaking becomes, it can interfere with your medication or reading. It is because your door isn't properly lubricated, and that is the reason it makes such noises.
Simultaneously, if the hinges are too tight or too loose, they can cause friction with the door, which results in loud noises. You should not allow a loud door to detract from your quality of life. A skilled Plano handyman will be able to repair your door quickly.
Whether it's as simple as re-aligning the door, repairing damaged hinges, or making other minor adjustments, you'll get a better night's sleep every time. The door repair service can work on doors made of a variety of materials, not just wood and metal.
2. Difficult to close and open
This is common after years of using the door daily. Having difficulties closing and opening the front entrance door or other doors in the house can be frustrating.
You might not be able to get a good night's sleep in your room because you hear noises from other rooms. After all, the door doesn't close properly. You may also need to use a lot of force to open the door, which can be aggravating.
There could be several reasons why a door does not close or open. It's most likely warped as a result of moisture or insect damage. If the hinges become loose, the door may no longer fit into its frame, making it difficult to open and close.
The door could have also become misaligned. Regardless of the reason, a professional can help you repair your door. Give Locksmith Services a call so they can help with your broken door.
3. The paint is flaking off
This is yet another vital sign that it is time to repair your broken door. UV rays from the sun, water damage, or extreme weather conditions can all cause the paint on your front door to deteriorate.
Peeling paint can make your home look unappealing and even reduce its overall value. You can easily resolve this issue by applying a fresh coat of paint. How many homeowners, however, have the knowledge or the time to do so? A professional door repair service can solve all of your problems if you don't want to spend hours looking for the right paint and applying it correctly.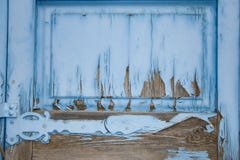 4. Rusted and corroded metallic doors
A metallic door can provide excellent protection against intruders and extreme weather. Most metallic doors, however, are prone to rust or corrosion. This may not be the case in the first few years when the door is new, but rust will eventually appear.
A rusted front entrance door will detract from the appearance of your home. It will give your guests and passersby on the street a bad first impression. You must address rust and corrosion issues as soon as possible before they degrade the quality of your front entrance door.
Rust on your front entrance door will deter potential buyers if you plan to sell or rent your home soon.
5. Unstable hinges
Even if you have the strongest door in the world, if it is held in place by shaky hinges, it will pose a security risk. Furthermore, loose hinges can make it difficult to open or close your door.
For a variety of reasons, hinges can become unstable. Screws, for example, may become loose and shift from their original position. When the screws are no longer tight, you can tell.
You might be able to fix it with a screwdriver on your own, but someone must hold the door in place. It's best to leave it to a professional if the hinges are extremely loose or rusted.
Call Us
Bayside & SE Suburbs
03 9781 1255
Mornington Peninsula
03 5977 0900
Westernport
03 5997 5972
Melbourne Metro
1300 562 573
Source: mrhandyman
---
To find out how we can help you with your Website + Marketing, using our unique location marketing platform called Top4, get in touch today at www.top4marketing.com
Looking to build customer loyalty through social media? Don't forget to add your business to Top4.global
List your business, create your own digital store to sell goods and services, and share posts on social media. Promote your business on Google instantly! Should you need help with local digital marketing then view our new Google Marketing Platform and services Top4 Marketing
Get Found On Google Promote Your Website, Reach local customers today!
Our Digital Marketing Agency Services Across All Industries Include Search Engine Optimisation (SEO), Google Marketing, Website Design, Corporate Web Development,  and local location-based marketing using our own Google Marketing Platform!
Engage A Social Media Agency For Only 1/3 The Cost Of Employing A Social Media Manager…LET'S TALK!