Which of these 9 digital marketing and martech megatrends will help give you an edge in 2017?
In this post, Smart Insights' Dave Chaffey takes an in-depth look at what he sees as the 9 most significant trends, or 'megatrends', in digital marketing for the year ahead. He has broken them down by 5 different types of marketing trends that businesses of all types need to consider to stay competitive.
The 5 types of marketing trend that all businesses should consider
'What's New?', 'What's Hot?' and 'What's Next?' are some of the most common questions Dave gets asked through the year when he's speaking at events or training.
As marketers plan ahead for where to invest their marketing budgets in the year ahead, interest in the latest innovations and trends increases yet more, so for the last few years, he has reviewed future opportunities from different angles, for example, the digital transformation and marketing integration trends in 2016; marketing technology innovation in 2015 and digital marketing tactics in 2014. We've also looked specifically at the top eCommerce trends for 2017, which do overlap with general marketing trends but have important differences.
The interest in trends and new marketing opportunities is no surprise, since when thinking about how to get the most from digital marketing, there are so many new platform changes from the likes of Apple, Google, Facebook and LinkedIn that influence the latest trends. To give just one example, Google announced a new mobile Shop The Look AdWords feature which retailers in that sector will need to review and implement.
In our popular digital media cheat sheet covering the latest changes, we catalogue over 250 organic and paid tactics that digital marketers need to consider across the main platforms – it shows the challenge of keeping up-to-date.
I'll now take a look at 5 types of trends marketers need to consider and highlight the 'Marketing MegaTrends' that we recommend  all businesses consider. I'll also show some examples of interesting new techniques approaches which are more likely to important in specific retail sectors.
1. Customer behaviour and characteristics trends
Devising marketing plans and campaigns should always start with understanding customers changing needs, wants and characteristics, so that's where we start our review of the trends.
As this waves of changes diagram Dave created for his Digital Business and Ecommerce book shows, marketplace changes including consumer behaviour happen on different time scales. While the zeitgeist of different memes changes daily, changes in technology, communications and commerce change on a slower scale.
When considering trends, we have to look at different timescales. Some tech trends are short-lived 'fads', others are longer-term megatrends. In this article, he highlights both.
From a consumer device usage perspective, two major trends are the increased growth in smartphone adoption and the ongoing popularity of mobile and messaging, particularly by mobile as highlighted by KPCB analyst, latest Mary Meeker's Global Internet trends review. While growth in North America and Western Europe is reaching a plateau, extrapolating trends from Asia shows future expansion.
The growing importance of mobile marketing and apps is shown by these stats (Source: Smart Insights Mobile Marketing Trends statistics compilation):
More than 50% of searches are on mobile
91% of Facebook usage  (Daily Active users) is on mobile
80% of  Facebook advertising revenue is on mobile
90% of mobile media time is spent in apps
From Facebook's Mobile Messenger through Facebook's acquisition of WhatsApp and rebuff by Snapchat to the popularity of apps in non-Western markets like WeChat, there is a continued and growing wish for consumers to communicate directly outside of public social network pages. This is really the last frontier for social media monetisation, so we can expect to see some major changes here in 2017 with new options for paid media on messaging apps, although this will be limited since the app owners have committed in the past to keeping messaging ad free.
So, reaching and influencing consumers as they move from public social media to messaging will remain a challenge to businesses, but as this next trend shows, there will be new options for reaching consumers via messaging.
Megatrend 3. Applying Artificial Intelligence to engage and service customers
Artificial Intelligence is now starting to deliver on its promise and have now developed to the stage where brands are developing bots that give consumer assistance. Likely you'll know about Apple's Siri, Microsoft's Cortana, IBM's Watson, and the latest addition, Facebook's Bot Engine for Messenger, which went live in April this year. Google too announced its assistant service at Google I/O 2016.
Online publisher TechCrunch have noted this trend, saying that Chatbots have suddenly become the biggest thing in tech, explaining that they promise to:
"Unlock the ability to provide personalised, interactive communication akin to talking to a human customer service or sales rep, but at scale for much cheaper than call centres".
An example of a chatbot application based on the API Facebook has built into Messenger is this service from the Hyatt hotel group who also use Zingle, a non-AI messaging solution from a startup that seeks to combine messaging from multiple sources including Facebook and Twitter.
Google has also been innovating in this area with the Google Assistant technology announced this year. These services are described this way by Google:
"The assistant is conversational—an ongoing two-way dialogue between you and Google that understands your world and helps you get things done. It makes it easy to buy movie tickets while on the go, to find that perfect restaurant for your family to grab a quick bite before the movie starts, and then help you navigate to the theater".
2. Marketing Technology trends
We're close followers of changes in Martech since there are so many great services available for gaining market insight and for creating more relevant online communications. We review changes in Martech across our Essential Martech wheel and free report which shows the main options across the customer lifecycle which we define in our RACE digital planning framework.
You will see that across the lifecycle, may of these technologies are established. For example, search marketing insights tools (Reach); marketing automation tools (Act); web personalisation tools (Convert) and Marketing automation or Cloud services (Engage). Others such as Programmatic (Reach) are less well established. Across all of these, the main megatrend is the growing popularity of marketing cloud solutions targeting different types of business from the likes of Adobe, HubSpot, Infusionsoft, Marketo and Salesforce.
Megatrend 4. The rise of the Marketing Clouds including Automation and Programmatic
We see the biggest new trends in Martech surfacing in 2016 and important into 2017 as applying artificial intelligence and predictive analytics as described above. Plus, there will be more consolidation as the marketing cloud vendors mentioned above build out their services and integrate different technology better.
Within marketing cloud solutions, there will be more emphasis on a newer approach to consolidate customer data from different first-party and third-party sources across the customer lifecycle. Related to this is exploiting this data through customer data platforms, predictive analytics.
Megatrend 5. Growth in Customer Data Platforms and Predictive analytics
Predictive analytics is well-established in has specialist applications such as assessing credit risk and fraud in financial services, but we predict that its general use in marketing will increase as marketing automation services move to more use of automated lead scoring and grading based on algorithms rather than human-defined rules. An example of scoring propensity to buy/subscribe is from DataStories, a consultancy used to understand the behaviour of subscribers based on the frequency of visit, dwell time and the type of content they have consumed.
3. Trends in Marketing Techniques
At a top level new digital marketing techniques are unlikely to evolve, rather it is the new services from the platforms that we talked about in 1. That will become more important. The main digital marketing techniques are now well-established under the inbound marketing umbrella term. Although digital marketing has given many opportunities for communicating digitally with our audiences – see the list of more than 100 marketing channels by consultant David Sealey, these can only be managed at a higher level and these main digital marketing techniques will likely remain constant. In our Toolkits within our member area and our Digital Marketing Skills report, we simplify these many channels down to just 8 key techniques which are essential for businesses to manage today and for individual marketers to develop skills.
For each of these techniques, the megatrend cutting across all of them is still mobile device adoption, but not simply Mobile first – mobile device management.
Megatrend 6. Mobile marketing and cross-device optimisation
Most businesses now get the basics of mobile marketing right. They provide a responsive website design, meaning that their site is 'mobile-friendly' in the consumers and all-seeing Google's eyes. The trend in 2017 will involve optimising mobile experiences which may mean providing more tailored experiences for different devices through an adaptive design. It will also mean making detailed optimisations needed to encourage conversion on devices. Some of this may be forced as the recent Google move to reduce rankings of sites using pop-ups on smartphone from 2017.
Businesses will also continue to grapple with how mobile fits into the customer journey in relation to other devices and offline interactions with consumers – and in particular, how it is measured.
Dave believes Eric Schmidt, then Chairman of Google did the marketers a disservice when he talked about a mobile-first approach. The reality is that while smartphone use is overwhelmingly popular for some activities such as social media, messaging and catching up with news and gossip, the majority of consumers in western markets also have desktop (and tablet) devices which they tend to use for more detailed review and purchasing. So we need to think about strategies to engage the Multichannel Majority and not just smartphone adoption.  This explains why mobile conversion rates are much lower in retail and why the breakdown between traffic for retail sites is broadly equal between smartphone and desktop. Audience measurement platform comScore has talked for some time about strategies to engage and measure the multiplatform majority across devices and there will, or should be more focus on that in the years ahead. Their latest data for the US is striking in shows how the multi-device majority dominate, particularly amongst millennials.
Megatrend 7. Content and Inbound Marketing
Over the past three or four years, readers have voted for the importance of Content Marketing amongst the marketing activities available. We have seen an ongoing popularity of content marketing as an activity businesses are focusing on to achieve growth as shown by our 2016 research with HubSpot on Content Marketing trends – see the Competing on Content Marketing infographic for more insights on how content marketing is managed today.
Within content and inbound marketing, we think the ongoing discussions will be around getting the right balance of content quantity, frequency and quality and of course, measuring the return on investment of content marketing. An article around research from Buzzsumo gives an interesting summary of why content marketing's future depends on shorter content and less content. We agree with the less content part, although not necessarily the shorter content part as research shows that longer content can be more effective in business-to-business. All of the top 10 Smart Insights posts including this one are based on longer, in-depth content.
4. New platform marketing trends
As mentioned at the top of the article, many communications today between consumers and brands are mediated using services and operating systems created by the major platform providers.
For example, consumers search through Google or Bing; use Facebook for catching up socially and messaging; business communications through Microsoft's LinkedIn and use digital devices via Android or iOS. Since these top-tier platforms are looking to grow their audience share and monetise their audiences, many of the most frequent changes in digital marketing today are on these top-tier platforms and other key platforms like Instagram, What's App, Pinterest, Snapchat and Twitter.
Since we referenced these trends previously, we won't cover them again here, other than to say we try to help alert members to the most important changes, from all the many new platform updates each month in our newsletter and 'What's Hot' feature in the members' area.
Instead, let's look at what consultants Gartner have identified as emerging technologies. The latest Gartner 2016 Technology Hype Cycle highlights many innovations which the mega platforms like Google and Facebook, with their mega budgets and research teams are working on integrating into their services, for example, Augmented Reality, Cognitive Expert Advisors (described above as AI Chatbots), Smart Data discovery (of which Predictive Analytics is one approach) and IoT integration including the Connected Home.
It's interesting to note that Augmented Reality and Virtual Reality are in the Trough of Disillusionment. However, they may be relevant in some niches, for example, we described how Virgin Holidays are rolling out Augmented Reality in store.
Many of these advanced technology approaches may not be relevant for customer communications from your 'average business', so in this article, we have looked to highlight more practical communications innovations businesses can apply in 2017. In their separate marketing hype cycle, it's interesting to see the technologies they have identified which are in line with what we describe in this post.
On the Rise marketing trends:
General-Purpose Machine Intelligence
Ad Blocking
Customer Data Platforms
Real-Time Marketing [that's personalisation, not Real-time PR]
Personification
Programmatic TV Advertising
Cross-Device Identification
Virtual Personal Assistants
Programmatic Direct Advertising
5. Marketing Management trends
The final category of trends for marketers and business leaders to be aware of, relate to how marketing is managed. The main ongoing trend here is Digital Transformation which is the integration of digital marketing activities and technologies into wider marketing and business activities to create a 'digital business'.
Megatrend 8. Digital Transformation and change management
Digital Transformation has been around as a concept now for several years since a focus was put on it by MIT and consultants such as Cap Gemini, PwC and Accenture. While these consultants mainly work with larger organisations, the Smart Insights – UBM research report on Managing Digital Marketing covering organisations of all sizes shows that many businesses are actively working on digital transformation.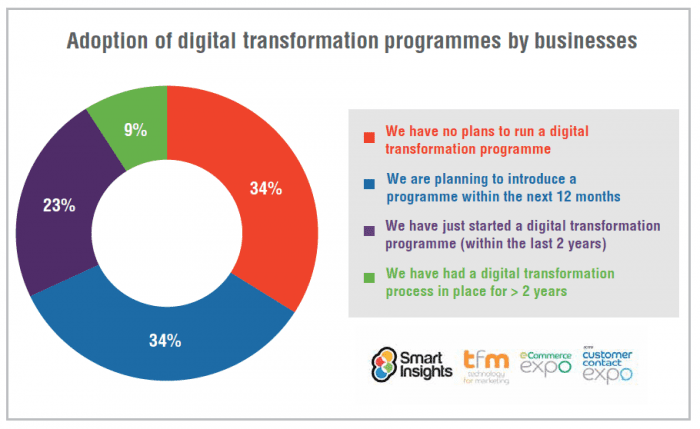 You will see a significant proportion of one-third of businesses for whom digital marketing isn't relevant. These are typically smaller businesses or startups for whom integration is less of a challenge.
The growth in digital transformation is fuelled by many of the changes in adoption of mobile and digital devices covered before. Namely, by the need to integrate better way ways of communicating with consumers via digital devices and in particular, mobile and social channels.
Digital transformation is helpful in encouraging focus on both longer-term and shorter-term planning horizons. As part of a transformation programme, businesses should introduce longer term roadmaps for introducing digital technologies, analytics and processes techniques. To encourage optimisation and agility in planning, in the shorter-term, 90-day optimisation plans should be created which seek to make changes to marketing across the customer lifecycle to improve results. These focus on 'always-on' marketing activities rather than too much focus on campaigns which won't typically address major improvements to inbound marketing, marketing automation or improving the customer experience.
That brings us to our final 'megatrend' which relates to improving integrated communications across devices based on insights about how consumers switch between channels as they respond to persuasive prompts and follow their buying journey model.
Megatrend 9. Lifecycle Marketing Optimisation
Lifecycle Marketing Optimisation describes an integrated, data-driven approach for improving the effectiveness of interactions with customers on different devices and in different channels. This marks a move away from optimising individual touchpoints such as Paid Search or Media, landing pages, emails and conversion pages in isolation, but instead views them as a multistep, multichannel process.
At a website, channel and engagement level, we're currently reviewing Intercom, which offers options to engage audiences, not just on the web, but on different channels also including web, email,  in-app and push notifications. It looks to be a powerful technology and covers more channels than just web, but it isn't full lifecycle since it doesn't cover remarketing through media.
So, we have covered 9 mega trends for marketers to review for their strategies in 2017. Which do you think will be most important for your business to support growth? Or perhaps there is a trend that's not included yet and will update this post. There is room for a tenth.
Source: Smart Insights
Be updated with the latest industry trends by connecting with the digital marketing experts today.